Originally, Luke and I had planned to take the girls to Honolulu this weekend as a last hurrah before school starts. Everything starts so early in Williams - the girls have to be back by Wednesday the 11th. So it sounded like a fun (slightly inexpensive) weekend getaway. That was until we found out that we were pregnant a couple weeks ago. After that, the weekend turned into a vow renewal (after our secret wedding in May) so that the girls could participate in a fun, interactive Hawaiian ceremony. It's unfortunate that feelings were hurt after we decided to hold this ceremony with just our little family, but it was planned for the girls and not for everyone else. I never thought we would pull so much together - and jump over SO MANY obstacles - in the time we did.
In one week, we found a minister, planned the ceremony location and schedule, found a florist and ordered all the flowers we needed, book a hair and makeup person, ordered dresses for the girls, booked a photographer, and I bought and altered a beautiful dress in two days. We didn't spend nearly as much as we would have with a real wedding, but our new plans did make the trip slightly more expensive than we had originally planned since we had to rent a car and pay for Aimee's hotel and food. On Friday, we showed up in Honolulu and went directly to the hotel to check in, then right to eat after that. Then I had to see the stylist to give her an idea of what I needed for hair and makeup, and then to the florist to pick up the flowers. By the time we arrived back at the hotel, we were all pooped and ready for dessert and bed. I had to iron little girl dresses and such before I got to go to sleep, and then was up again at 3:30am (6:30 California time) to take a taxi over to the salon.
Unfortunately, when I woke that morning, the hotel fridge had frozen my beautiful bouquet the florist had arranged. Little did I know that the salon owner was skilled in flower arranging, and I had an EVEN BETTER LOOKING BOUQUET by the time he was done fixing it. He had even stolen some plants from the building lobby to complete the arrangement. I was so, so grateful to him. After hair and makeup, I threw on my dress to ready myself for a first look with Luke downstairs, and we were off to the beach for our 7am ceremony.
The girls were pretty uninterested in the ceremony itself - they danced around in the sand while it was going on, and only acted interested when Kahu Bruce asked for their participation during certain points. The ceremony was beautiful and short, and then we were off to the trees and the beach for an awesome bridal/family portrait session. Aimee did a fabulous job and had a great time doing it - and what kind of photographer would I be if I didn't show off at least ONE! :-)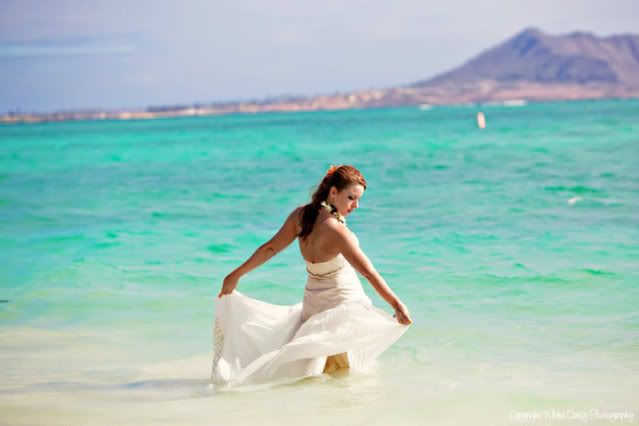 After the session, we were sandy and wet, and in need of a substantial breakfast. So of course we followed tradition and headed to the nearest Ihop! We love the variety there for breakfast, and the portions are usually SO big in Hawaii (not like we need it). We took Aimee to the airport where she got first class seating on the way home (woot woot!), and then back to the hotel for a little siesta.
The rest of the trip consisted of hanging out at Waikiki Beach with Luke's old high school friends in Honolulu (whose family I may return to have a session with during Labor Day weekend), dinner at Hula Grill, and also hitting Costco on the way back to the airport today. We had an amazing time, and I am so, so, SO stoked to see more pictures as Aimee comes up with them throughout the next few weeks.