I am really, really tired of being pregnant. I am not ready to have this baby yet because we have so much going on with the house still. But it's coming along so well! This is probably part of the reason I am so tired though - Lucas and I have been staying up until after midnight trying to clean up the post-construction mess and organize as much as possible. Construction has moved from the living room to finishing the pantry and my office, and it's now focused on the girls' suite. We are so excited about this project because the room will be absolutely HUGE when it is done - about 20' by 12'. One end of the room will be dedicated to beds, the other end to a walk-in closet and a window seat right under the window: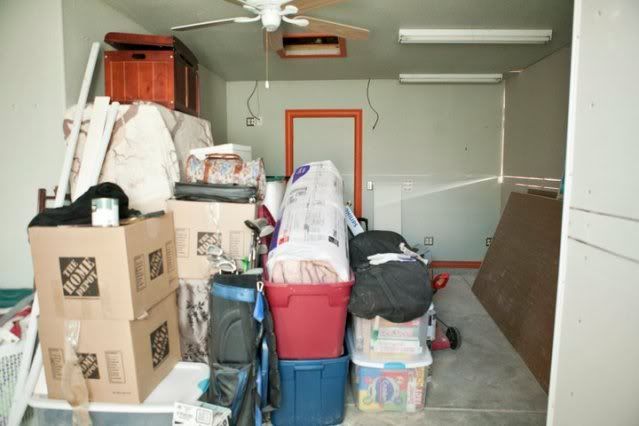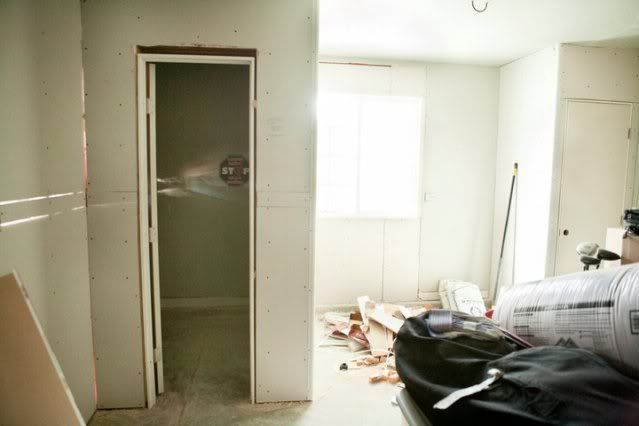 Unfortunately, the room is slightly more narrow than I would have liked and the closet not as big as I was hoping for, but that's what happens when you turn part of the garage into a bedroom. Hopefully with the gorgeous bright paint on the walls, the awesome prints I plan to frame for them, the brightly-patterned window seat cushions, and the light fixtures pictured below, the whole effect will be amazing and clean-looking. I'm pretty stoked. :-)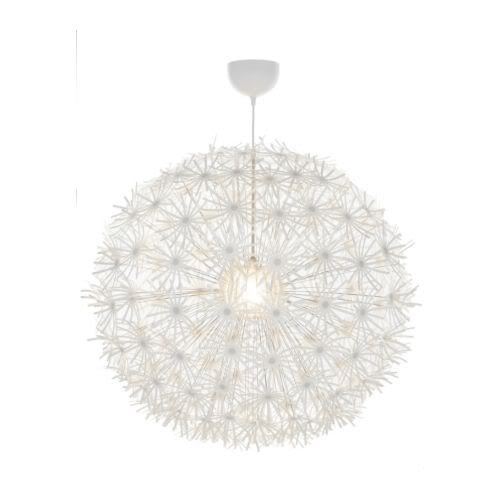 Zeke's room will follow directly after the girls' suite, since he will be moving into the girls' current room. His area will probably be decorated just like in the picture: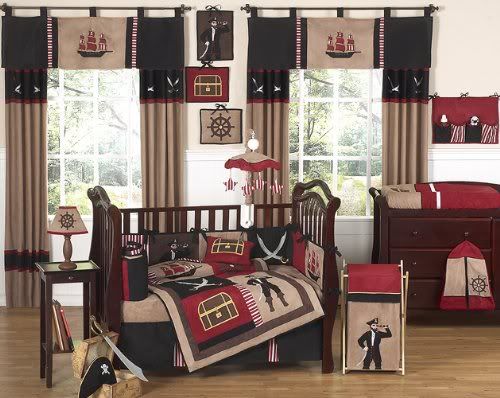 Luke and I wanted to put black bead board on the walls, but we figured that it would compete with the cherry wood-colored crib, changing table, and armoire. Darn. :-( We are excited about decorating though because we are going with the whole pirate theme - pirate books, an anchor, canon, spy glass, model pirate ship, and hopefully a map of the "New World" on the wall above the crib. I love decorating, and I think his room will be so much fun. Even the stuffed animals on display will have to be dressed accordingly with eye patches and such. Fun, fun.
Baby shower is coming up soon, and I am hoping it will turn out nice despite the drama that has surrounded it so far. I wish people would get over themselves and just DO what needs to be done. I had gotten to the point that I was tempted to have a welcome home party instead of letting someone plan my shower, but the idea was vetoed and people starting to get their crap together. Currently, the plan is to have it catered by Costa Vida, which sounds awesome!
I had an ob/gyn appointment last week with a midwife that I actually liked... Until she mentioned that they don't induce at that hospital until 42 weeks. No offense, people, but if this baby goes two weeks over then I could get a ten-pounder. NOT cool. The midwife seems to think that he will only be in the seven to seven-and-a-half pound range, but these professionals are never very good at guessing weights. I might talk to another doctor and see if they might possibly induce closer to a week after my due date like they did with both the girls. If I had known all of the crap these doctors intended to put me through, I would have pushed Luke to get Kaiser. I may still push him in that direction since his PPO is costing us a LOAD of money each month (almost as much as we pay for the mortgage), and Blaine isn't really helping insure his own children.
Speaking of Blaine, I am tempted to ask him if he has any life insurance. Currently he is just under 300 pounds, and he just bought himself a little crotch rocket. Are you effing kidding me? How does he plan to take care of his family if he gets killed on that damned thing? I am not happy about this, especially since he is not paying as much as he should for child support and medical insurance. Whatever.